The IDDT Shop
Welcome to the IDDT Shop. You can buy the following items direct from IDDT. Please select the item(s) and quantity you'd like to order. Once you've added them to your basket you can proceed to the checkout. Pay with a PayPal account, or by debit or credit card via the PayPal site.
Please note: IDDT do not charge for delivery. Our apologies, but these items can only be delivered within the UK.
Cool boxes for carrying insulin

SORRY – OUT OF STOCK!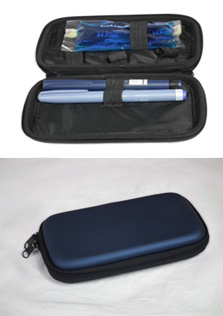 IDDT is offering these cool boxes for carrying your insulin at the special price of only £15.00.
This hard backed zip up personal insulin pen pack carrier has a dark navy cover, net zip up pouch inside to hold cooling gel pack, a divider to keep gel pack off medication and several elasticized loops for holding pens.
Keeps insulin at 2-8 degrees for 8 hours at ambient temperature 35 degrees
Comes with Soft Gel pack
Fits into a jacket pocket or handbag
Great when travelling in hot climates, and for going out and about

Collins Carb Counter

The key to following a high-protein diet is to control your carbohydrate intake. Collins Gem Carb Counter is a guide to the net carb contents of everyday foods. It also gives calories, protein and fat. Information is given per portion to make it easy to use. High protein, carb-counting diets are often referred to as a man's diet and this emphasis on portions rather than 100 g means that there is less working out involved. Boredom is often the downfall of the carb counter, so a section is included which gives suggestions for different meals: breakfast, lunch, dinner and snacks.
---
Insulin – A Voice For Choice, by Arthur Teuscher

A thorough discussion of the controversy surrounding animal and "human" insulin. In the early 1980s synthetic "human" insulin produced by recombinant DNA technology came onto the market. Despite an acknowledgment by the manufacturers regarding the potential dangers of "human" insulin they soon began to withdraw bovine and porcine insulin from markets all over the world, and promoted more expensive "human" insulins as a superior replacement. Read more of IDDT's review of this book here…
Special Offer – WAS £10.99 – NOW £6.00!
---
My Life with Diabetes – 61 years of Carb Counting, by Tony Huzzey

This is a book by Tony Huzzey who was diagnosed with Type 1 diabetes when he was 12 years old – 61 years ago.
IDDT can proudly claim that Tony has been a member of IDDT almost since we first formed and he is an inspiration to children and adults with Type 1 diabetes.